Angle Brooms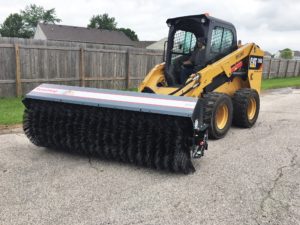 RoadHog angle brooms were designed to outlast the all others on the market. Offering a 30 degree hydraulic angle range, our brooms feature a heavy-duty frame and hood that withstand abuse, 32" heavy duty poly and steel wafers, and an optional hood deflector.
Our primary customer base includes those contractors sweeping milled asphalt and performing final clean up around the job prior to paving. Many also used at industrial or commercial buildings for debris and snow removal in parking areas, and commercial, school and church campuses.
Sweeping widths are available in 60, 72, 84 and 96-inch configurations, which are suitable for a wide range of host vehicles including skid steers, tractor loader backhoes and small wheel loaders.