Pickup Brooms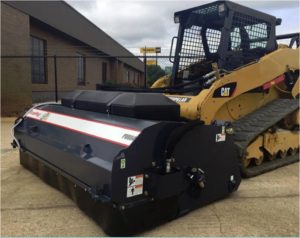 RoadHog pickup brooms were designed to last years, not just a few seasons. Our brooms feature heavy-duty front cross members that withstand abuse, reversible bolt on cutting edges, heavy duty poly and steel cores, and an optional 45 gallon low profile pressurized water system. A gutter brush ( with a shut off valve ) is also available.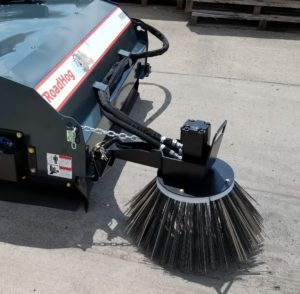 Our primary customer base includes those contractors sweeping milled asphalt and performing final clean up around the job prior to paving. Many are used at industrial or commercial buildings for debris removal in parking areas. Other sweeping tasks include street maintenance with our optional gutter brush attachment that enhances clean up after festivals, parades and street fairs.
Sweeping widths are available in 60, 72, 84 and 96-inch configurations, which are suitable for a wide range of host vehicles including skid steers, tractor loader backhoes and small wheel loaders.
CONTACT YOUR LOCAL DEALER TO SEE A RoadHog IN ACTION TODAY.