Cold Planers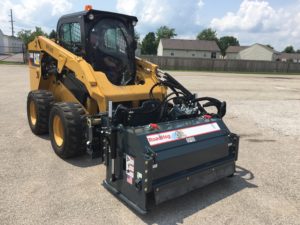 RoadHog hydraulic cold planers offer high production at a substantially lower cost of small, dedicated milling machines. These machines are widely used around the US and abroad by paving contractors and municipalities alike for small milling projects, which include pothole repair of city streets, removing failed pavement and milling curb lines prior to overlay.
Utility and pipe contractors use them to open trenches prior to repairing or replacing gas, water or sewer lines at a lower cost per foot versus a walk behind saw.
RoadHog cold planers are offered in cutting widths of 12 inches up to 48 inches. The 12 and 16-inch wide standard flow models operate on the skid steers auxiliary hydraulic system and offer a cutting depth of 5 inches. Depth and tilt control are manual, while sideshift is hydraulically controlled. Those customers that may not have a high volume milling or own a high flow skid steer, which is required for larger cold planers with additional features, favor these units.
High flow skid steer RoadHog cold planers are offered in cutting widths of 16, 18, 24, 30, 40 and 48-inches. All feature planetary reduction drives, which efficiently provides maximum cutting torque under load. RoadHog can build any one of these models, for any make and model of skid steer.
RoadHog's high flow cold planers are available as G5 or HD models. G5 models feature independent depth skis and a very simple design that makes side-by-side lap cuts quick and easy for any operator. G5 models feature 6-inch depth capability, while the HD models have 8-inch. HD models are available in 24, 30 and 40-inch versions. These units feature a depth skid rather than independent depth skis and a 1.5-inch thick drum wall suited for more extreme milling conditions.
Contact us or your dealer to arrange a demo.